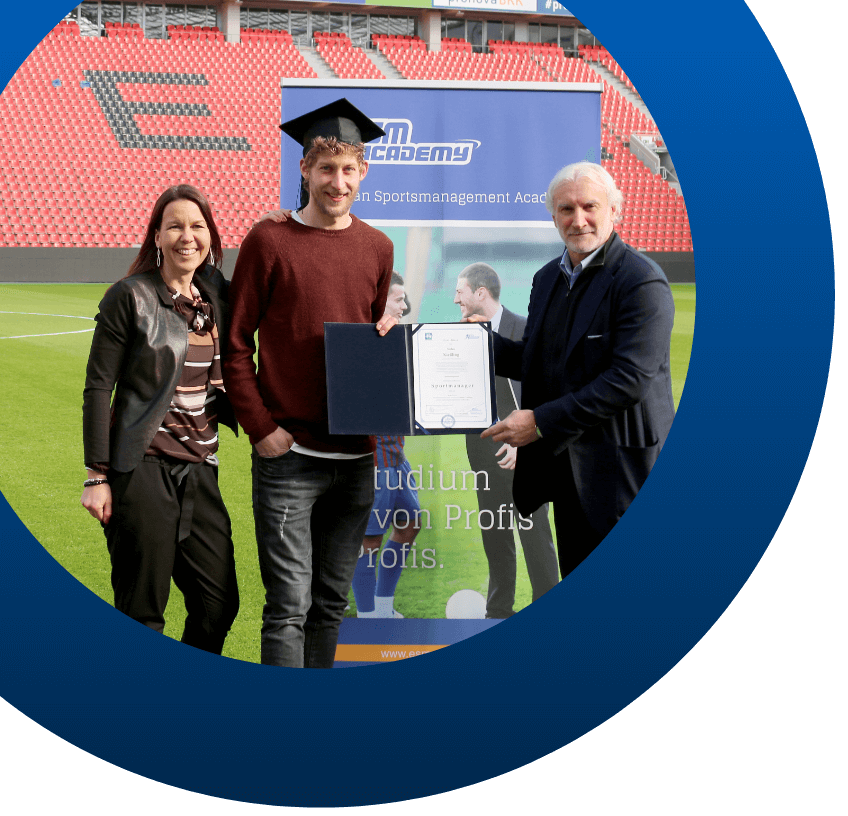 PROFESSION
SPORTS MANAGER
Communicating with coaches and players, developing marketing strategies, making decisions about squad members, getting as close to the action as possible every weekend and taking your club to a higher level – activities like these are what your future everyday life as a sports manager will mainly entail.
But exciting challenges also await you every day. While some clubs can handle large sums of money, many others have to get the most out of a relatively small budget with the help of creative ideas. Sponsors want to be impressed and fans want to be inspired again and again. You are also in constant contact with sports agents and the media.
In order to master these challenges of sports management and to be able to tap into your full potential, a sound education is of great importance.
Your responsibilities as a sports manager
As a sports manager, these are the areas of potential in which you need to be competent in order to gain advantages for your company or club. These responsibilities are divided into two categories and are as diverse as the world of sport itself. In particular, however, they depend on your exact professional position. Depending on the size of your company or your experience in sports management, you will either be responsible for one aspect or for all of them.
Here's where
you'll be needed
Where you will end up in the sports industry depends on your interests and your previous career experience. However, there are a lot of possible jobs:
What makes you a good sports manager
The most essential attribute in a good sports manager is their personality. You need to be communicative and think both analytically and creatively. You can be empathic, but should also be assertive – you ought to enjoy working in a team, but also take the lead sometimes.
In addition, you need to be someone who's enthusiastic about sports and pursues them in your free time or even professionally. These qualities, combined with the sound economic knowledge you'll gain through our sports management studies, are the optimal basis for a career in your dream job of sports manager.