Studying worldwide –
we make it possible
The days when you had one employer after school and didn't change it again until retirement are long gone. Today, those who make it in the professional world want variety, new experiences and an exciting environment - this applies to athletes as well as to all other professionals.
It is not uncommon for a station abroad to play a decisive role here. Getting to know a new culture, improving language skills, a different climate and many exciting impressions are the central arguments in favour of this.
With our sports management degree programme, we have specialised precisely in this target group of active and cosmopolitan people. Therefore, our programme is structured in such a way that it can be completed optimally from anywhere in the world.
Where sports managers work
Good sports managers are needed everywhere. Whether at sports clubs from amateur level to the Bundesliga, at associations in the respective sports, at sporting goods manufacturers, in agencies for marketing, sponsoring or advising players, or in young companies with a connection to sports - those who combine their passion for sports with the compact knowledge from our sports management studies are in good hands in the sports business.

What sports managers need to know
In our degree programme, you will learn everything about sports marketing, sports psychology, sports management and sports law. In 14 individual modules and a total of 60 lectures, our team of lecturers optimally prepares you for a position in the sports industry. Whether it's project management, club law, business management or communication - you'll learn what it takes to work successfully in a club or company using practical and clear examples.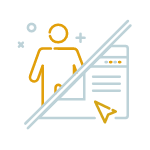 Lectures from everywhere
---
The special thing about our degree programme is the flexible online lectures, which you can watch live or recorded. If you are there live, you can ask the lecturers questions and discuss with your fellow students.
But if you don't have the time, you can download all lectures conveniently from our Online Campus the next day. And then watch them exactly when it suits your everyday life, without any time or place constraints. Even studying in countries with time differences is no problem.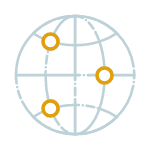 Sports Management studies international
---
We currently have students from over 20 countries. These include numerous European countries such as France, England, Switzerland, Hungary and Sweden, but also many international countries such as Australia, Malaysia and the USA. The degree programme can be completed in German or English, depending on which language you feel more comfortable with or where you see your professional future.
New nations join almost every semester and enrich our international and intercultural team.
Flexibility during the year
---
The fact that the studies will be completed from abroad is often not even clear at the beginning of the study period. However, a last-minute job change or transfer can happen at any time - and then it's good to be flexible. You can simply take a break from your studies for a few weeks, organise the move, settle into your new city and then simply catch up on the lectures you missed.
Many athletes such as Haris Tabakovic, Matthias Ginter or Blerim Dzemaili have already mastered this balancing act and completed their studies in the standard period of study of only one year despite changing clubs.
Sports Management studies in Switzerland
Even though students are currently studying from 22 different countries, Switzerland is the most represented international country - both among current students and our graduates. The Alpine country has been going through an exciting process of professionalisation in sport for several years, which is why well-trained sports managers are increasingly in demand here as well. Among other things, the Super League will be increased by two teams from the 2023/24 season and the championship competition with play-offs will be reformed.
The sports management degree programme can also be completed completely flexibly from Switzerland. Without time difference, live participation in the lectures is possible without any problems and if something comes up, they can simply be watched recorded.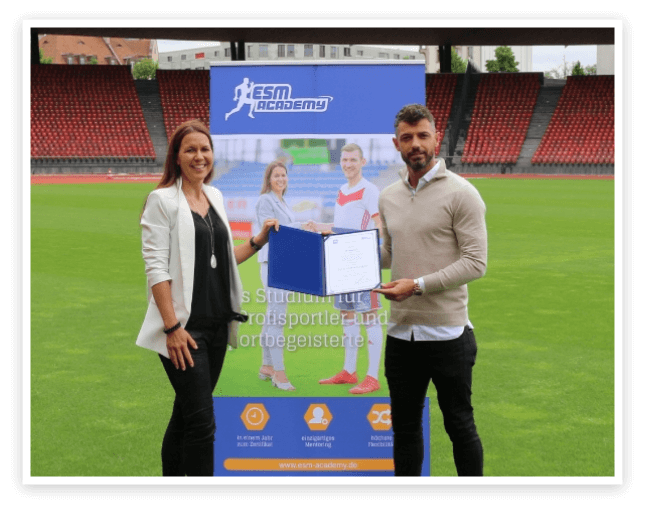 In order to make our sports management studies even more flexible for our students from Switzerland, we also offer examination dates directly on site. With one of our cooperation partners, the exam can be conveniently written once per semester directly on Lake Zurich. We come to you in Switzerland, so that from now on you don't have to leave the country for your studies.
However, if you would prefer an individual examination date, you can of course come to us in Nuremberg at any time. This gives you maximum flexibility for your sports management studies.
Sports Manager in Switzerland
After completing our one-year state-recognised university certificate, the world of sports business is open to you. You can then work wherever sport and business meet. Many of our graduates want to be as close as possible to the sporting action and are then active in clubs, for example in marketing, sponsoring, in the youth department or in the licensing area. Those who like to work on a larger scale are in good hands with associations such as the Swiss Football Association, the Swiss Ice Hockey Federation or Swiss Ski. Some ESM-ACADEMY graduates also find themselves working as player consultants or in other agencies. One area that has gained a lot of attention, especially in recent years, is young start-ups from the sports sector. Here you can apply your newly acquired knowledge directly in a young, up-and-coming company.
Network & Further Education

Over the past years, a wide network has developed due to the large number of students from Switzerland. Even though many graduates such as Blerim Dzemaili, Timm Klose or Fabian Schär are still lacing up their shoes themselves, others such as Nicolas Hunziker, Fynn Skender or Amir Kadic have already started their second careers. We maintain a good exchange with the local University of St. Gallen and the CAS Sport Management programme, as this study programme can offer additional added value for graduates of our programme. We also have other cooperations, for example with the further education platform ausbildung-weiterbildung.ch and the successful Football Leverage team.